No one alone can litter a pile of trash. Anyone who sees trash criticizes it, but it is the unintentional habits of each person that causes a lot of waste to be released into the environment, causing pollution and loss of aesthetics.
Tại Việt Nam chúng ta có thể dễ dàng thấy một anh công nhân vừa chạy xe máy đi làm vừa hút vội ly cafe, hút xong thì tiện tay vứt xuống đường. Một đôi nam nữ ăn mặt sành điệu đi chơi cùng nhau rất tình tứ nhưng cũng vô tư vứt rác bừa bãi không một chút e ngại. Một chiếc xe hơi chạy ngang qua bỗng hạ cửa kiếng xuống và vứt rác ra đường. Một bà mẹ lái một chiếc xe tay ga sang trọng đón con đi học về, đứa trẻ ngồi sau vừa hút xong hộp sữa là vứt ngay xuống đường dù xe cộ qua lại rất đông, có khi còn vứt trúng người đi đường. Các hộ dân ở gần kênh, sông, biển thì quét rác xuống nước cho nước cuốn trôi đi, rác trôi đi đâu đây? Một bà mẹ có thể dặn con mình đừng vứt rác trong nhà nhưng hãy vứt ra đường vì tý nữa là có công nhân dọn vệ sinh tới quét. Vấn nạn lạm dụng tụi Nilon cũng làm phát sinh rất nhiều rác. Chính những hành động vô tư đó đã làm cho Việt Nam đi đâu cũng rác, cảnh đẹp mới phát hiện ra là đang rất hot mà con người đặt chân tới thì xác định vài bữa là "nát" cảnh đẹp vì con người đặt chân tới là xả rác. Để Việt Nam có thể sạch và đẹp như Singapor thì mỗi người Việt Nam phải có ý thức không xả rác và bảo vệ Môi trường, nếu có để lại nơi chúng ta đi qua thì chỉ nên để lại dấu chân không xả rác.
On June 23, 2023, Nam Viet Environmental Engineering Joint Stock Company organized a vacation tour for employees in Nha Trang, where the company also organized a beach trash cleanup in the coastal city of Nha Trang.
As a unit specializing in operating in the field of environment, Nam Viet understands and appreciates the values that nature has bestowed on humans, however today the living environment has been destroyed by the consequences of economic development. In addition, the awareness of the majority of people is not high, so the environment is degraded and waste is everywhere. Although a trash cleanup session at the beach cannot clean up much or all of the trash, through this activity, Nam Viet Environment Company also contributes to environmental protection organizations, state agencies, and unions. convey the message of joining hands to protect the environment and protect the green planet. Below are some pictures of a trash cleanup session in Nha Trang to promote the spirit of environmental protection to everyone.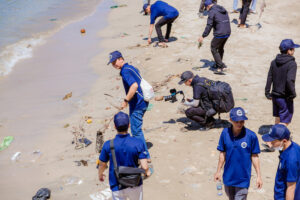 A section of beach has a lot of trash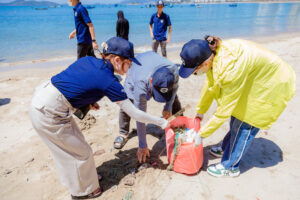 Nam Viet staff enthusiastically cleans up trash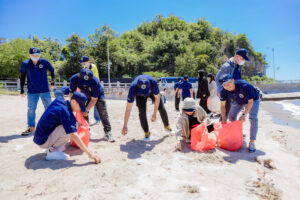 Don't mind the sun
The son of a Nam Viet employee was taught by his mother to pick up trash from a very young age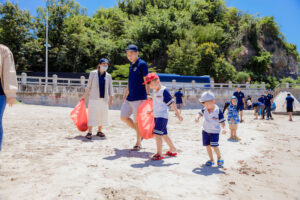 The children were very excited about cleaning up trash. This is also a small success of Nam Viet Environment in raising awareness of environmental protection among the future children of the country.
Nam Viet Environment staff took souvenir photos at the beach where trash was cleaned up
Nam Viet Environmental Green Video (singer Ly Hai) with the desire to raise awareness of environmental protection with the community