Finding jobs for new graduates is always a matter of concern to society, and it is also a difficult problem for training industries. If this problem is solved, it will greatly contribute to solving the unemployment of the country's intellectual workforce, contributing to the development of the country's economy. Below are some ways that Nam Viet would like to suggest in the hope of helping new graduates find a job.
Take advantage of relatives' relationships to find jobs for new graduates.
This method is simple and anyone can do it, which is to use family relationships to ask for a job. This method is quick and effective, but you should also note:
Competencies must meet the position held. Otherwise, you will not be able to do your job, and will be looked down upon by your colleagues and your reputation will be affected.
Do not depend entirely on your relatives' relationships because: Your relatives' superiors may also have children or grandchildren who need to apply or when you graduate, your relatives retire.
Choosing a good internship company is a way for new graduates to find a job
Take the time to learn and research and choose a good internship company
When accepted for internship, try to perform well
There are many businesses in Ho Chi Minh City that create conditions for students to intern and retain jobs if they perform well.
This is the clearest opportunity for you to demonstrate your abilities.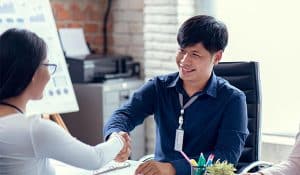 Choosing a good internship company is also the fastest way to get a job
Build your own relationships to help new graduates find jobs.
Get acquainted with seniors in the same industry. When you graduate, seniors who have worked for 1-2 years can also help you get a job.
Create relationships with students in the same student dormitory and dormitory
The Association has many successful seniors who are willing to help their juniors
Participate in social activities
Get to know older people to learn from experience
--> All of these relationships can help you get a job.
Find jobs through online job sites
Note:
Submit as many applications as possible to increase your chances
Be willing to go to the interview even if it's a long distance. If there's a good opportunity, take it and change accommodation.
Do not pay job application fees. Employment companies only collect money from businesses using human resources, not job applicants.
Proactively call or email the company to apply for a job.
Because of the possibility that when applying, many applications will be filled
At the time of application, there are enough personnel
Being proactive will probably be appreciated by employers because of your proactiveness at work.
Think independently, develop new business models, and launch new products autonomously.
Most large corporations in the world have their first starting point at home or in the family garage.
A great innovation, a product that is beneficial to the whole world, can originate from a simple idea
Try to develop from small and gradually grow.
Every failure is just a lesson to learn and be more successful
There is no successful business that has not experienced failure.
Wishing you soon find your favorite job and achieve much success in life.