Working in the Environmental industry is the desire of most Environmental graduates. Nam Viet Environmental Engineering Joint Stock Company is a company specializing in the fields of wastewater treatment, water supply and boiler chemical supply. The company's leadership and the entire engineering team are graduates of the Environment and Chemistry majors. Nam Viet Company would like to share about the characteristics of jobs in the Environmental industry for graduates, hoping to help. Helpful for you on your path to finding a job and building your dream.
Environmental treatment system operations engineer.
Nam Viet engineer at the wastewater treatment system
This is the easiest job in the environmental industry, no experience needed, new graduates can do it right away.
It helps you understand the system, how to operate it, how to mix chemicals, microorganisms, how to measure, how to use, and control machinery and equipment.
The actual system should help you a lot after many years of studying theory but being a bit "hazy"
You can work at manufacturing plants, environmental contracting companies, centralized treatment stations…
The characteristic is that operating salaries are usually not high and are outside the system. You have to accept this to learn from experience. If you are afraid of hardship, you should not choose the environmental field.
Operating the processing system is only suitable for Men, so it will be very difficult for Women, so women should skip this position.
The characteristics of this job are that you stay in one place and work for the manufacturing company, or move around on projects "here and there" if you work for an environmental contractor.
You should work in this position for 1-2 years, try to learn and grasp all the technology and find another job.
Don't operate in one place forever, it won't help you advance.
Environmental treatment system installation engineer
Suitable for those who have experience operating the system or new graduates
Suitable for those who are interested in technical installation.
Installation work also helps a lot for you to understand the system, and have a more realistic view.
And like the Operating position, the installation position is only suitable for men, not suitable for women.
Because you work in construction, the nature of the work in general will be miserable, and you are also a "here and there" construction worker, so if you choose this position, you will have a strong mentality.
Development opportunities: When you have experience, you can move to management or Construction City, Maintenance City, later you can move to project education, or take on the project yourself for self-development.
Need to be hard-working, diligent, careful, improve the spirit of learning anytime, anywhere.
This position can continue to develop or after having about 2-3 years of experience, you can choose another path such as technology is also very good.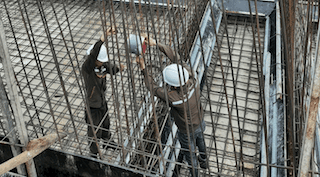 Nam Viet engineer at a construction project
Environmental technology engineer.
Suitable for those with no experience or experience in installation and operation.
The work of calculating and designing environmental treatment systems: drawing designs, calculating materials loading, quoting prices…
The job characteristics are mainly working in the Office, so it will be less difficult than the two operating and installation positions, but there will be unique pressures.
This job is suitable for women and men.
Those with experience in operation and installation will have a great advantage because there is no better learning than practical experience.
So if you are a new graduate, go step by step in the above order, it will be more certain.
For those of you who don't have experience, you have to work hard during the work process because learning, designing, and calculating is one thing, but applying it in practice, in each case of each factory, will be another story.
Environmental Business Engineer
Environmental Business Engineer is a job in the Environmental industry suitable for those with no experience and those with experience in operation, installation, and design.
Job characteristics often call to find needs, meet customers to convince customers to sign contracts.
Trading in environmental equipment such as pumps, motors, sludge dewatering machines,…
Trading in environmental chemicals: PAC, Polymer, aluminum alum, iron alum…..
Trading in laboratory equipment: laboratory instruments, analytical meters, laboratory chemicals.
Requires skillful communication skills and customer persuasion.
Nature of work Business requires appearance, polite and beautiful dress, not harsh in the style of a project, but there is pressure on sales.
The basic salary is not high, but the income from commissions if a contract is signed is huge.
The income of sales staff, if they do well, can be said to be higher than all other positions in the company
Suitable for men and women, especially women if they are skillful in communication. However, men also have strengths in that they have good technical knowledge and good ability to persuade customers.
Only suitable for those who are passionate about business and money development
Not suitable for those who just like a stable job
Because the income if you sign a contract is very high, this job can completely change your life, so it's worth putting your time and effort into it.
Business Engineer and Environmental Consultant suitable for female Environmental Graduate
Environmental Consulting
Suitable for those who like to do work related to paper documents and do not have strengths in technology
Suitable for both men and women, specializing in waste discharge permits, plans, schemes, DTM, environmental law
Requires a clear understanding of regulations on environmental legal documentation procedures
Can work in private companies or specialized departments in state agencies such as Department of Natural Resources and Environment, Department of Natural Resources and Environment…
Lecturer or Environmental Researcher.
Like all other majors, when you graduate with high scores and have a good track record at the university, you will be retained to work at the Faculty, study further, and participate in research and teaching. .
Suitable for those who like the pedagogical environment, like research and teaching.
The advantage is that you can get a job right away and can be sponsored by schools or organizations for advanced study and research.
However, to develop and have a good position requires a lot of effort and learning. If you do a simple job, it will be very boring and there will be no opportunity for advancement even if you graduate with excellent grades.
Those who choose this path should try to be more practical in order to have practical knowledge to teach students.
Environmental analysis staff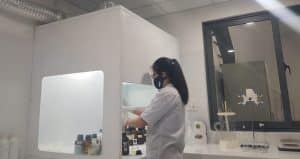 Analysis of water parameters at Nam Viet Laboratory
Suitable for those who love science and analysis
Suitable for both men and women
Job requirements: scientific, meticulous and accurate.
You can work at private analysis and testing centers or analysis departments of state agencies.
The stable nature of the job is suitable for people who are passionate and love analysis and research, and you will have the opportunity to become a scientific researcher if you have the right knowledge and path.
There are opportunities for advancement in this job, but it will be very slow and you need to develop more professional knowledge to have a good opportunity for advancement.
Non-governmental environmental protection officer.
Non-governmental environmental protection worker is a job in the Environment industry suitable for those who have a passion for adventure, exploration, and love of the environment.
Work related to the environment such as: nature conservation, conservation of wild and rare flora and fauna.
Advantages: the salary according to world standards is very high, and many tools to support work are provided
Required to be willing to travel here and there, up to the forest and down to the sea… and good at English.
No matter what your qualifications are, as long as you: study hard, work hard, work with the highest sense of responsibility, passion and creativity in your work, development opportunities will come to you. .
If you want to learn about ways to find jobs in the environmental industry for new graduates, please refer to here. Or watch the video below
Hope you will find yourself a job as you like.