In November 2021, Nam Viet Environmental Engineering Joint Stock Company started construction of a pig farming wastewater treatment system and water supply system.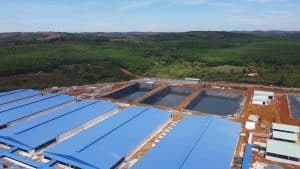 Panoramic view of Song Vu Dak Nong pig farm
INVESTOR:SONG VU DAK NONG COMPANY LIMITED
LOCATION:Dak Mre Village, Quang Tan Commune, Tuy Duc District, Dak Nong Province, Vietnam
Items in the swine wastewater treatment system.
Fecal Separation System
Biogas
Wastewater treatment system with capacity of 240m3/day.night
Clean water treatment system with capacity of 300m3/day.night
Environmental permit
Work content in the pig farming wastewater treatment category
Nam Viet carries out: Survey, consulting, design, construction, supply and installation of technological equipment and technology transfer, committing to a wastewater treatment system that can operate stably with a capacity not exceeding required capacity of 10% and meets national technical regulations on wastewater discharge QCVN 62 – MT:2016/BTNMT- National technical regulations on livestock wastewater Column A
Pig farming wastewater treatment technology at Song Vu farm.
Physicochemical technology combined with aerobic microorganisms SBR
Wastewater (Collected together with pig manure) → Collection tank → Pumping and pressing to separate manure; wastewater after separation → Intermediate tank → Biogas tank 1 → Biogas tank 2 → Sedimentation tank 1 → Sedimentation tank 2 → Conditioning tank → Flocculation – flocculation tank → Physicochemical Sedimentation tank → Selector tank → Aerobic tank SBR → Disinfection tank → Biological filter yard → Biological pond 1 → Biological pond 2 → Receiving source.
Construction process of pig farming wastewater treatment system.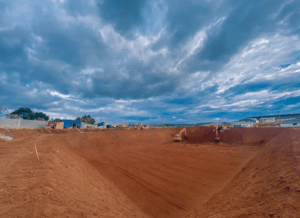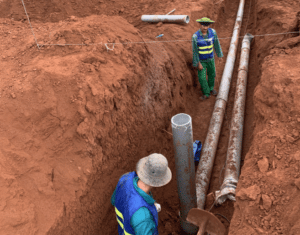 Proceed to dig Biogas holes in settling ponds, finishing ponds and lay pipes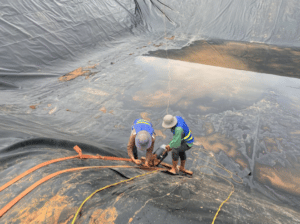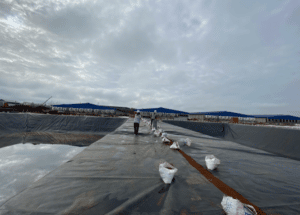 Carry out welding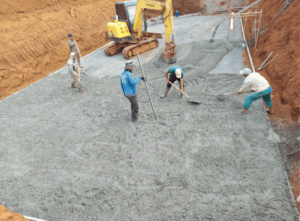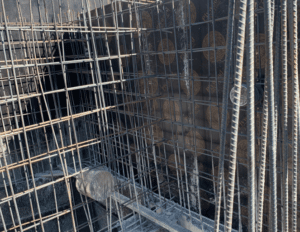 Construction of treatment tank and waiting pipe laying work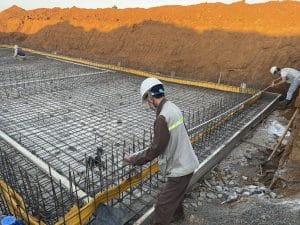 Nam Viet engineer at the project