The wastewater treatment module is suitable for establishments and companies with small wastewater flow, narrow installation area, and low installation costs.
What customers is the module suitable for
Customers such as: Restaurants, hotels, clinics, dentists, companies and businesses with low discharge volume lower than 20m3/day and night.
Complete design, quick construction, easy installation
Cost is cheaper than reinforced concrete construction
Take advantage of small areas to place processing modules
Compact, easy to move if installation location changes.
Treatment of organic and inorganic wastewater right at the source of emission.
Ensuring landscape and aesthetics
Full treatment compartments and control cabinets ensure that treated water meets discharge standards.
Runs automatically, no need for regular operators
Easy to check and repair when problems occur.
Wastewater treatment module designed by Nam Viet ETC
Flowchart of wastewater treatment technology using Module
Depending on the type of wastewater, Nam Viet ETC uses different technologies. Below is a basic technology diagram for domestic wastewater treatment.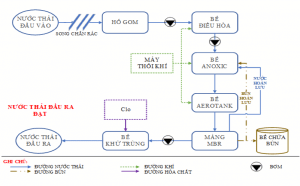 Technological scheme
Trash screen, collection pit:Remove trash, avoid clogging water flow, clogging pump.
Regulation tank: Regulates the flow and concentration so that the system operates stably.
Anoxic tank: This is an anoxic microbial tank, the wastewater here will be denitrified and phosphated.
Aerotank: Aerotank specializes in handling organic substances, minimizing odors and removing suspended solids. BOD in the aerotank can be treated up to 90%.
MBR membrane: With its extremely small size, MBR membrane can separate suspended solids, colloidal particles and some bacteria, viruses and organic molecules of different sizes. big.
Disinfection tank: Water after passing through the MBR membrane is basically clean, however to ensure the requirements, it is necessary to disinfect with Chlorine before being discharged into the environment.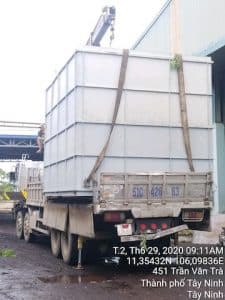 Domestic and production wastewater treatment module installed for customers in Tay Ninh
Nam Viet ETC With many years of experience in treating wastewater with capacities from small to large, we have our own mechanical workshop with a technical team. Skilled mechanics have manufactured many high pressure equipment, along with a team of Environmental technology engineers will help customers have the best solutions to suit each customer's needs. Please contact us for the best advice and support.