What is a bottled water filtration system?
The bottled water filtration system is essentially an RO pure water filtration system
After passing through the RO system, the water will go through a filling line to be packed into jars or bottles depending on product needs
Structure of RO bottled drinking water filtration system
Supply water tank
The feed water tank contains the incoming water source for filtration
The water supply tank helps stabilize the water flow to help the system operate stably
Coarse filtration equipment
Removes impurities suspended in water
Removes iron content in water
Structure of RO system to filter bottled drinking water
Deodorizing device
The main ingredient is activated carbon
Removes odors and organic compounds
Removing residual chlorine helps protect the RO membrane
Softening system eliminates hardness
Helps remove hardness (Ca2+ and Mg2+)
Avoid clogging the RO membrane behind
Fine filter columns 5micron, 1 Micron and 0.2 micron
5 micron fine filter and 1 micron fine filter filter residues as small as 5 and 1 micron to protect the RO membrane
0.2 micron fine filter filters dead bacteria after passing through the disinfection system, ensuring the delicious taste of water
RO filtration system
Works on the principle of reverse osmosis
Removes most heavy metals, ions dissolved in water, and bacteria
Only let pure water pass through
UV light
Helps kill bacteria, ensuring hygiene and safety for water sources
Component water tank
Stores filtered water to prepare for bottling the finished product
Electrical control system and technological pipelines
The electrical cabinet system controls the pumps and operating system
Technological pipes connect the filtration system and filling system
Bottle filling and bottling system
You can choose an automatic filling system or a drum filling system depending on the customer's investment needs
The filling system includes bottle washing nozzle, bottle filling nozzle, bottling nozzle and conveyor belt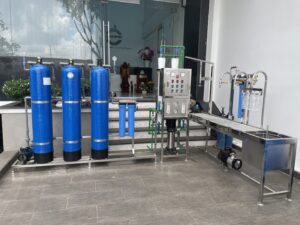 RO system filters bottled drinking water installed by Nam Viet
What water source can supply bottled water?
You can use tap water or well water that meets domestic standards to supply the bottled water filtration system
If self-exploited river well water sources do not meet domestic standards, they can clog the filtration system
Standards apply to bottled water sources
See section 4 of QCVN 6-1:2010/BYT standard here
What do businesses producing bottled drinking water need to prepare?
Choose a production site in a dry, cool, clean place, avoid areas near toilets, barns, cemeteries, landfills….
Apply for a water business license
Brand logo packaging design
Install water filtration system and filling line.
Register for food safety certification and regulation conformity certificate
Nam Viet Environmental Engineering Joint Stock Company specializes in installing RO systems to filter bottled drinking water. Customers who need advice on installing the system please contact hotline 0932562177